"We have to remember what's important in life: friends, waffles, and work. Or waffles, friends, work. But work has to come third." – Leslie Knope
If we get a dollar for every time we think about Waffles, we'll be surely rolling in a lot of money. On the top of that we have Park and Recreation's Leslie Knope reminding us about the importance of warm, soul-soothing waffles that are versatile enough to be a dessert as well as a breakfast.
Whether they're topped with Nutella and ice-cream or chicken and cheese, waffles are bound to turn away your blues but finding a place to hog on the best waffles can be a task therefore, here's a list of places that serve the Best Waffles in Delhi.
1. Wenger's Deli
Wenger's is one of the best bakeries in the city and there's nothing that they can go wrong with. Their bodacious waffles are one of the best items on their menu, the clientele of Wenger's Deli swears by them and so, do we.
Price: ₹120 onwards.
Location: A Block, Connaught Place.
MYP Recommends: Nutella Waffle, Blueberry Waffle, and Banana and Toffee Waffle
2. Wafflesome
For the vegetarians out there who love waffles, this little waffle joint in GK is a saviour that makes waffles that are not only nectarous but also eggless. They've also opened another outlet in Punjabi Bagh that is going to remain open till 1:00 am.
Price: ₹120 onwards
Location: Greater Kailash 1, M Block Market and West Punjabi Bagh.
MYP Recommends: Nutella, Strawberry, and Blueberry.
3. Depot 48/29
This cafe chain is known for their amazing menu and they also serve waffles that can sweep anybody off their feet. If you want to have waffles for breakfast then this is the place to be, as they serve breakfast from 8:30 am till 12 Noon.
Price: ₹490
Location: Greater Kailash 1, N Block Market.
MYP Recommends: Chocolate Gianduja with caramelised nuts and Wild berry compote and Mascarpone cheese waffles
4. Di Ghent Cafe
A Gurugram based cafe that has made place in everyone's heart and stomach with its exquisite menu. They are especially known for their breakfast menu and desserts that include authentic Belgian waffles.
Price: ₹370 onwards.
Location: Cross Point Mall, DLF Phase 4, Gurugram.
MYP Recommends: Livinus Waffles, Vitrine Waffles, and Bavo Waffles.
5. Waffle Chowk
Waffle Chowk is a food truck located in Gurugram that is known for serving scrumptious waffles and this is evident from the waffle lovers that line up in front of it. Also, their first ever outlet has just got opened in Punjabi Bagh.
Price: ₹180
Location: Leisure Valley Parking, Sector 29 Gurugram and West Punjabi Bagh.
MYP Recommends: Nutella Strawberry, Waffle Sandwich, and Nutella Brownie.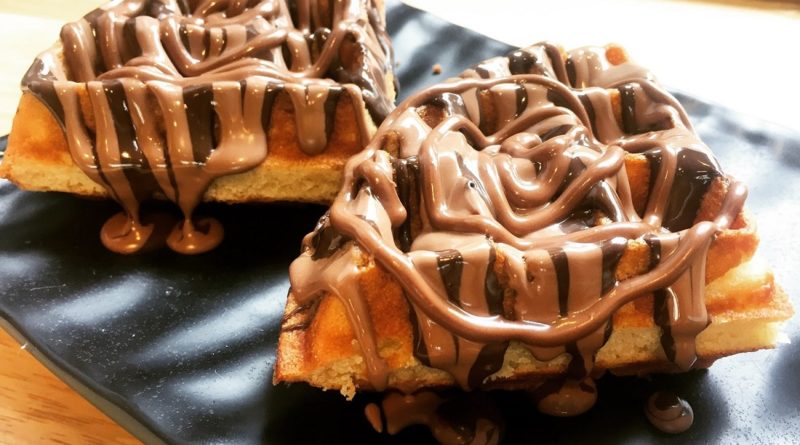 6. Drool Waffles
Drool Waffles is another heaven for Delhi's waffle lovers. They serve eleven types of waffles that hold the power to make every waffle lover drool.
Price: ₹190 onwards.
Location: Select Citywalk Mall, Saket, and Epicuria Food Mall, Nehru Place.
MYP Recommends: Rum Runner, Banoffee Blast, and Sara's Kinder Joy.
7. Stop My Starvation
If you're craving for waffles but are too lazy to go out then you need not worry because this food joint will stop your starvation, as they deliver scrumptious waffles right at your door step. They also make savory waffles.
Price: ₹110 onwards.
Location: C-10 Malviya Nagar, and M Block Market, Greater Kailash.
MYP Recommends: Old Friend's Rum and Raisins, Chicken Tikka Waffle, and Nutella Factory Waffle.
8. Ricos
"Rico" literally translates to delicious in Spanish and this place definitely serves delectable food at prices that won't hurt your pockets. Further, a visit to Ricos remains incomplete without trying their waffles.
Price: ₹160
Location: Hudson Lane, GTB Nagar.
MYP Recommends: Waffle Sundae, Ricos Special Waffles, and Black Forest Relish Waffles.
9. Ooh lala!
This food joint in DLF Promenade Mall is known for its crunchy and waffles and pancakes, that they make right in front of your eyes. Therefore, shop till you drop and then feed yourself waffles from this joint to attain nirvana.
Price: ₹160 onwards.
Location: DLF Promenade Mall, Vasant Kunj.
MYP Recommends: Belgian Waffles with Maple Syrup, and Chocolate Waffles.
10. The Little Cafe
This pretty, little cafe located in North Delhi's Rohini is a hidden gem that serves toothsome waffles and freak-shakes. Devour their toothsome waffles or try their freak-shakes without burning a hole in your pockets.
Price: ₹120.
Location: Fun City Mall, Prashant Vihar.
MYP Recommends: Chocolate Waffle, and Nutella Waffle.
Other places where you can get best waffles are:
Big Chill Cafe
Various Locations.
Rose Cafe
Price: ₹350 onwards.
Location: Westend Marg, Saidulajab, Saket.
Hudson Cafe
Price: ₹199 onwards.
Location: Hudson Lane, GTB Nagar.
Shake Eat Up
Price: ₹79 onwards.
Location: Netaji Subhash Place, Pitampura.
Movenpick
Price: ₹525.
Various locations.
Do you know any other places that serve the best waffles in Delhi? Let us know if we have missed out your favourite waffle paradise.