Looking for Best Street Food Places in Old Delhi? Read on.
Old Delhi is a treasure trove of India and a muse for millions across the globe. The Walled City is particularly famous for its street-food scene that attracts food lovers from around the world. And within the confusing lanes of this food paradise are shops and vendors that have been around for more than a decade. For foodies who want to go on a pilgrimage in search of street food in Old Delhi, here's a list of street food places in Delhi you must try:
1. Lotan Chole Kulche
Almost a century old, Lotan Chole Kulche has been serving lip-smacking Chole Kulche to the capital since 1920. Now being run by the fourth generation of the family, they are on every Chole Kulche lover's list who visits Old Delhi.  He sits in Chhatta Shah from 7:30 am to 10:30 am. After that you can find him between 11:00 am to 2:00 pm behind commercial school in Darya Ganj.
Location: Lotan Chole Wala, Chatta Shahji, Chawri Bazaar (Take exit from chawri bazaar metro station gate number 3 and ask anyone for Lotan)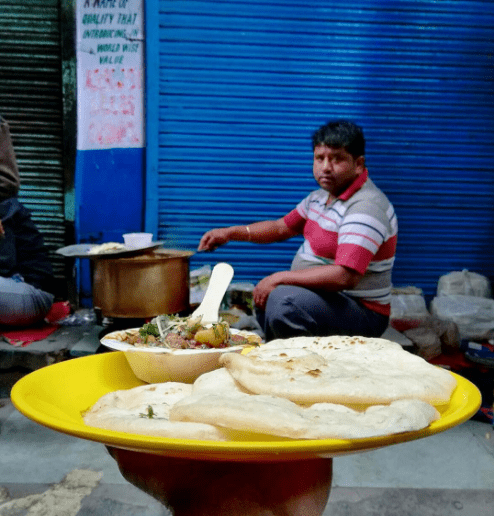 2. Lala Babu Chaat Bhandar
Old Delhi houses some of the best Chaat shops in Delhi and Lala Babu Chaat Bhandar is one of them. This roadside stall serves one of the best Golgappa in the capital along with Tikkis, Pao Bhaji, Dahi Bhalle, Samosas and, Kachoris. Location: 77, Chandni Chowk, Old Delhi, opposite McDonalds.
3. Bishan Swaroop Chaat Bhandar
Lost in the by-lanes of Chandni Chowk, this Chaat Bhandar has been in business since 1923. Their toothsome and healthy fruit chaat should definitely be on everybody's to-eat list. They scoop out one of the best Kulle ki Chaat, which is another Old Delhi invention. It's one of a kind chaat where fruits and vegetable are hollowed out first and then filled with pomegranate seeds and boiled chickpeas with some lemon juice and chaat masala over the top. The final outcome is tasty as hell.
Location: 1421, Chandni  Chowk near Mahavir Jain Library.
4.  Shyam Sweets 
Shyam Sweets, a 97 year old shop, now being run by the sixth generation of the family. It is always on the list of food-walkers. They have a plethora of desi sweets on their menu but they are most famous for their Bedmi Puri that they serve till 
1pm
. Order a lassi along with it and you're good to go! MYP Recommends: Bedmi Puri
Location: 112, Chawri Bazar, – 110006
5. Nawab Qureshi's Watermelon Shake (Pyaar Mohabbat Maza)
Nawab Qureshi's Pyaar Mohabbat Maza is a perfect drink for quenching oneself in the scorching Delhi heat. A number of carts can be found selling this sharbat made up of Roohafza, milk and watermelon. But, Nawab Qureshi's Pyaar Mohabbat Maza is the one you need to look for.
6. Qureshi Kabab Corner
Why have abs when you can have Qureshi Kebabs? Qureshi is known for selling the bests kebabs in Old Delhi. The chicken and mutton kebabs is a must try for all the kebabs lovers out there. MYP Recommends : Chicken and Mutton Kebab
Location: Opposite Gate 1, Jama Masjid, New Delhi
7. Aslam Butter Chicken 
A street-food joint that opened 20 years ago, has become a favorite of Delhi's non-vegetarians because of its queer Butter Chicken. Roasted chicken in a gut warming buttery gravy, Aslam's Butter Chicken is far away from the ideal image of Butter Chicken but is definitely worth all the hype.  MYP Recommends: Butter Chicken & Chicken Tikka
Location: 540, Bazaar Matia Mahal, Jama Masjid.
Price: ₹400 for Full Butter Chicken and ₹200 for Half.

8. Al Jawahar

Another eatery in the Walled City, that is a paradise for meat eaters. Claimed to be inaugurated by Jawaharlal Nehru, India's first Prime Minister, Al Jawahar is famous for its Mutton Curries, Kebabs, and Butter Chicken. My Yellow Plate recommends you to try their Chicken Korma which is a personal favorite from their menu.
Location: Jama Masjid Matia Mahal Road, Matia Mahal, Opposite Gate No.1, Kalan Mehal, Old Delhi.
9. Cool Point
It's time for some desserts. Cool Point is famous for Shahi Tukda (bread pudding dessert of fried bread slices soaked in hot milk with spices, including saffron and cardamom) and Mango Ice Cream. If you have a sweet tooth, this is the place to head to. MYP Recomments: Shahi Tukda and Mango Ice Cream
Location: 972, Bazaar Matia Mahal, Opposite Jama Masjid Gate 1, Jama Masjid, New Delhi
10. Kuremal Mohan Lal Kulfi Wale
Kuremal is a legendary shop selling kulfis since 1908. Their natural kulfis  infused with fruits have been a rave among generations of Delhites. Get your hands on their Jamun and Falsa flavored kulfis which are one of their best selling items. Location: Shop No. Chawri Bazar, 526, Sitaram Bazar Road, Kucha Pati Ram, Old Delhi.
What's your favorite place to eat in Old Delhi? Do let me know in the comments section below. And make sure to like my 
Facebook Page
and follow me on
Instagram
to join my tasty adventures.