Yellow! Welcome to my Blog. I am Himanshu! I travel around with a Yellow Plate and eat on it wherever I stop by. Join my TASTY ADVENTURES on Instagram here and Facebook here.
People say, that you can never get bored of what you love. And that is exactly what we witnessed with the incredible GREAT INDIAN FOOD TRIP – BIRYANI TRAIL by Scout My Trip. We visited 5 different cities on road, consuming a huge quantity of Biryani, over a span of 10 days. And each day was as exciting as the previous one, if not more. The Biryani Team, along with Dusty and our Milton essentials, tried over 15 different varieties of Biryanis! We also decided a winner from each city, which, trust me, wasn't as easy a job as eating the candidatures.  The idea behind the whole trip was simple, to hunt down the Best Biryani in town, get it packed in our Milton Casseroles and take it to our next stop for fellow foodies!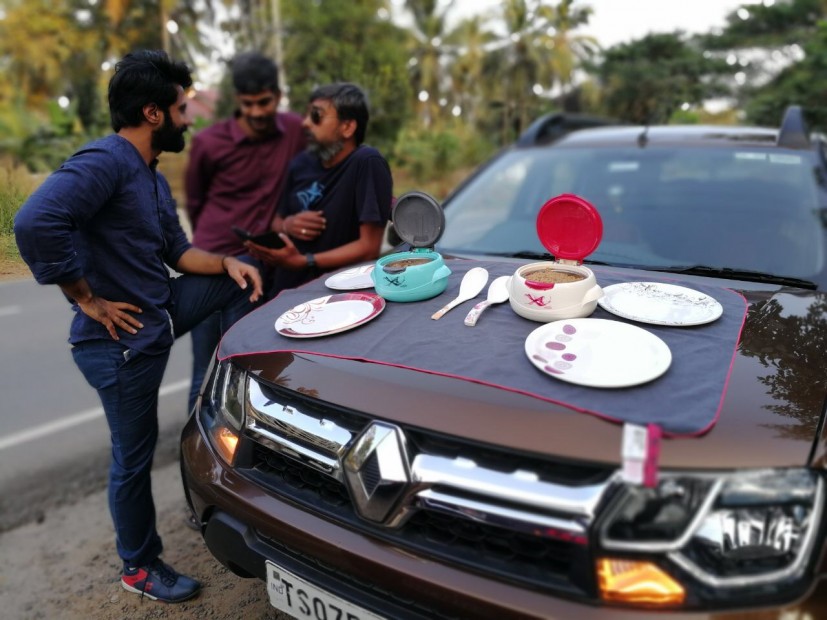 On this 10 days trip, we visited 5 different cities:
HYDERABAD
It all started at the city of Nawabs and arguably the most famous Biryani. We began our Biryani hogging journey with adab at Shadab Hotel. We tried their Chicken Biryani which was quite aromatic and flavorful with its saffron colored rice, mixed with cooked whole spices, fried onions and chicken, of course. With our tongues still tingling with the flavors of the Biryani at Shadab Hotel, we visited the Shahgouse Hotel. We were able to witness the process of making of a Hyderabadi Biryani along with tasting it. It was well balanced, yet flavorful. But, wait!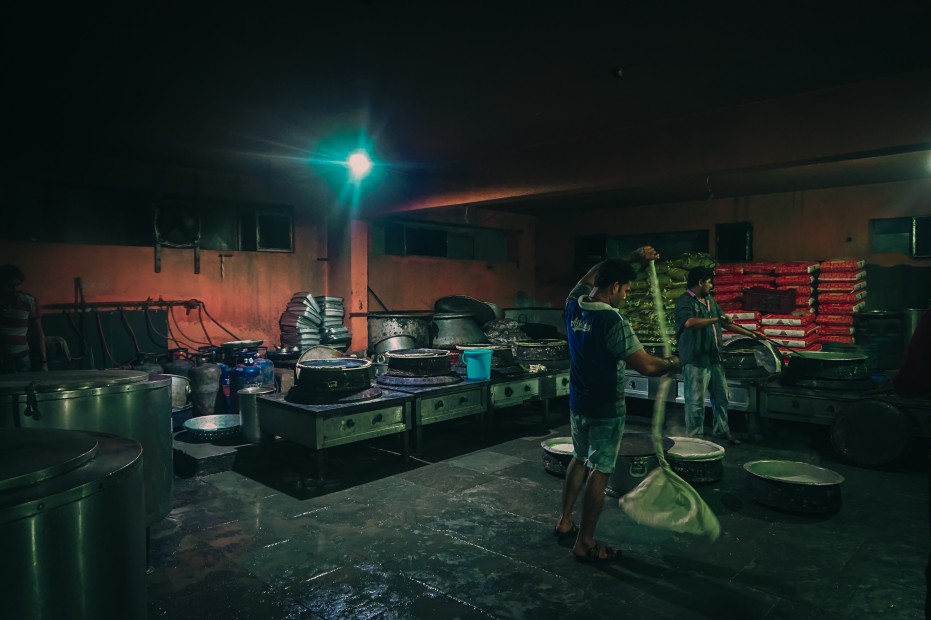 The day after, we tried Biryani at four more places – Meridian Café and Restaurant, Cafe Bahar, Bawarchi and New Astoria. All these places had pretty good and different preparations themselves. Along with the Biryanis, we also tried the Rose Milk and Bamboo Chicken at Ulvacharu (A must visit in Hyderabad).
Now, it's time to declare the winner. *Drumrolls* The winner from HYDERABAD is – CHICKEN BIRYANI AT SHADAB HOTEL. We got it packed in the Milton Microwow One Touch Casserole to take it to our next stop, BANGALORE! It kept the freshness and the flavours of the Biryani intact, even after the hours of travel. Oh yes!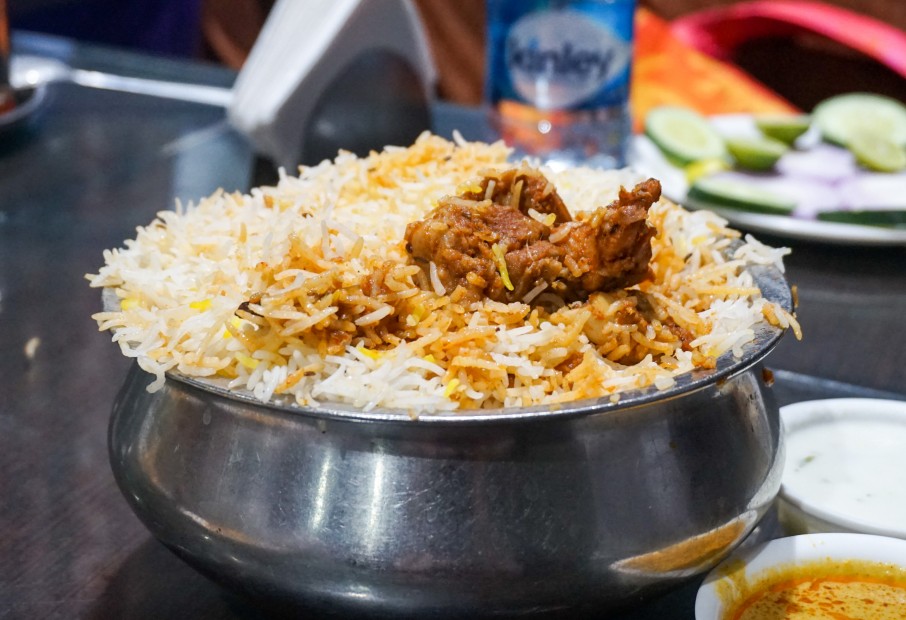 BANGALORE
The IT Capital offered us with an amazing array of Biryanis. We first went to try the oil-less Biryani – Bhatkali Biryani at Ali Baba Café. The chicken is cooked separately with green chilis, onions and curry leaves and cooked rice is then added over it. Absolutely delicious and saves your gym money as well, what else can you ask for! We also tried the traditional Palestinian dessert, Kunafah here along with the Moroccan Tea. 
Next Biryani that we tried was the Muslim Biryani at Chichaba's Taj. It was a bit low on spices with nicely cooked chicken and shorter rice grains. The Biryani Team then reached Meghana Foods. We had their Keema Biryani and Chicken Lollipop Biryani. Both of them were quite delectable with great flavours in the meat and the rice.
Next up, was the Tarkari Biryani and Mamsam Biryani at Nagarjuna Restaurant. Tarkari means vegetables, so the Biryani was a veg one with flavours inspired from Andhra Pradesh. The Mamsam Biryani had Andhra Flavours as well with the mutton and basmati rice.
It was the time now, for our Milton Microwow Casseroles to be filled, but with which Biryani? The answer is –BHATKALI BIRYANI FROM ALI BABA CAFÉ. This delicious Biryani had pretty tough competition, but it turned out flavorful and healthy enough to beat them all. WHEN IN BANGALORE, ALI BABA CAFE IS A MUST VISIT.
CHENNAI
After Bangalore, we took the roads to Chennai and there is nothing better on a road trip than a nice warm cup of tea. And we had our saviour – Milton Thermosteel Flasks for the same. These flasks made sure that our tea was warm for at least 2 hours! We also stopped at the Star Restaurant in Ambur to try the special Ambur Biryani. It is a lighter Biryani with curd base and a tangy flavour from the tomatoes.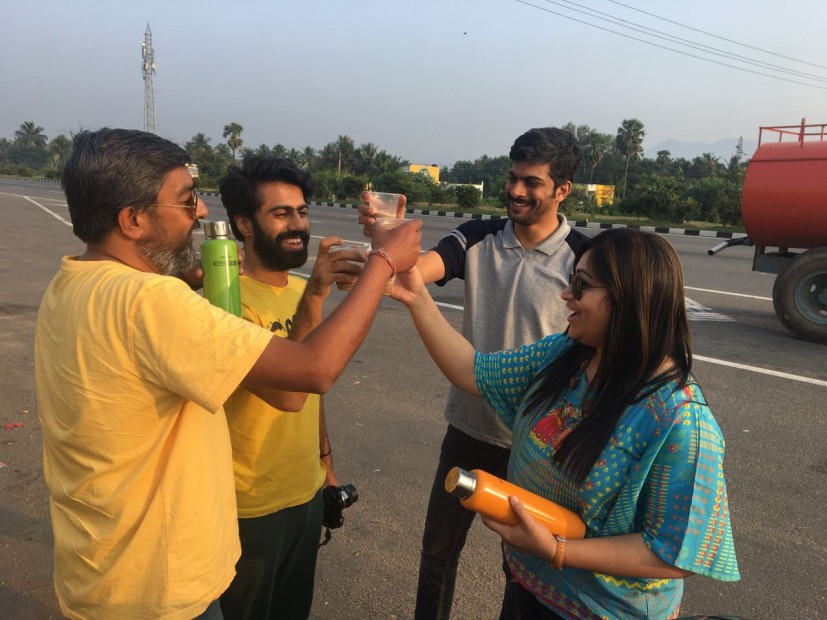 We rose with the Sun in Chennai at Marina Beach. Having a sip of tea while looking at the beautiful sunrise at the beach was a perfect start to the day.
The first Biryani that we tried was the one we ordered from Fill Belly. It was a woodfire cooked Biryani which was quite good. Next, we tried one of the spiciest Chicken Biryani at Charminar Biryani Centre.
Next up were the Chicken 65, Egg and Mutton Biryanis at Kalyan Bhawan. The Chicken 65 Biryani was the best of them all with the classic flavour of the Chicken 65 dish.
The winner in Chennai was – CHICKEN 65 BIRYANI AT KALYAN BHAWAN. So, like all the other winners, we took it in our Milton Casseroles to devour on it later.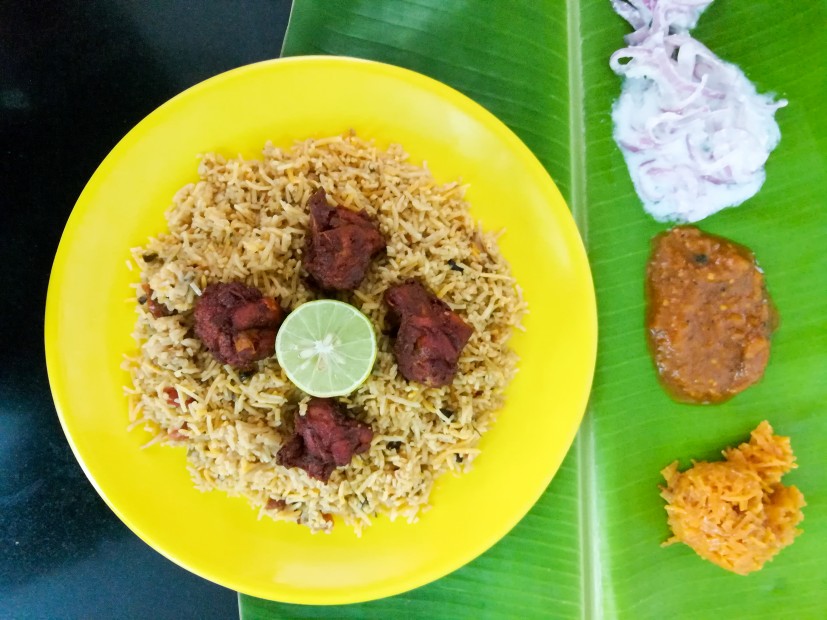 COIMBATORE
Before reaching Coimbatore, we had a little detour to Mahabalipuram. We explored the place a bit and see its major attractions while keeping our hydration level up with the cold water from Milton Thermosteel Bottles. After all, it would be pretty ironical to be dehydrated in the land covered by Bay of Bengal and the Indian Ocean on two sides now, wouldn't it?
We decided eventually, to directly move to Calicut from there. So, we got our Biryanis packed in the Milton Microwow One Touch Casseroles to gorge on them on the way. Thankfully, we had the Milton Melamine Plates to avoid the mess, and well, My Yellow Plate! 
About the Biryanis, we got the Dindigul Mutton Biryani from Venu Biryani Center. It was spicy and a bit tangy, due to the use of lemon juice and curd. The second one we had, was the Rowther Biryani from HMR. It was less spicy than the Dindigul one, but still quite good in taste.
The winner from Coimbatore was – DINDIGUL MUTTON BIRYANI FROM VENU BIRYANI CENTER.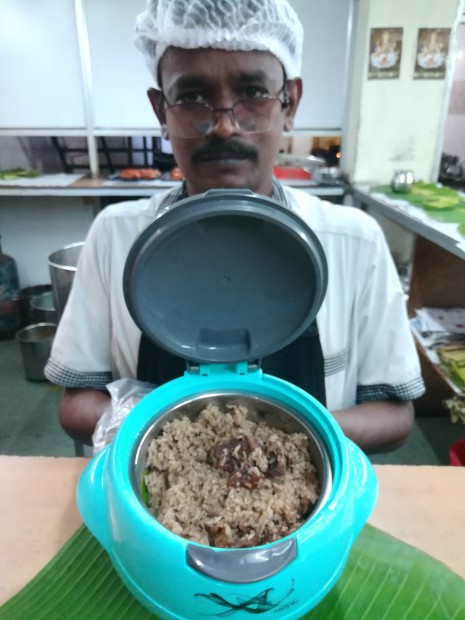 CALICUT
We started off with the Malabar Biryani, which was quite flavourful but was almost colourless and negligible spice. Looks are deceptive, eh? Next up, was the Fish Biryani at Rahmath Hotel. It was pretty delicious and a welcome change from the white and red meat biryanis we had previously. After our meal, we tried our hands at the Sulaimani Lemon Tea at Rahmath Hotel. It was quite good and worth having.
We also tried the Chicken Biryani at one of the oldest hotels in Calicut, Paragon. It has been in business since 1939. The biryani was quite delicious.The winner, though, in Calicut was – BIRYANI AT RAHMATH HOTEL.
The first leg of The Great Indian Food Trip was finally completed with an amazing experience. Throughout this experience, our anchor partner Milton played a pretty important part with helping us to carry Biryanis, tea, water, etc.
The last bite of Biryani was over and this journey, through various cities and restaurants, exploring the streets and hunting down the best biryanis in each city, finally came to a flavoursome end.
Hope you enjoyed reading this journey as much as we did exploring it. The Biryani Team, now takes some rest, before heading out for another adventure!
EAT WELL! TRAVEL OFTEN!