"Dessert is like a feel-good song and the best ones make you dance." – Chef Edward Lee
My Yellow Plate recently visited Whipped and realized that if there is heaven full of desserts on earth, it is at this place. Whipped, a small bakery located in GK-2 and Defence Colony is capable of giving you dessert goals!  It is undoubtedly one of the best bakeries in Delhi with a colorful-serene interior theme that sets the ambience just right to indulge in a mouth-watering dessert experience. Widely popular for its desserts, Whipped offers you a variety of delicacies including desserts, shakes and ice creams. To make it easy for you, MYP gathered 5 desserts you should eat at Whipped. If this doesn't get your mouth watering, I don't know what will!
1. Red Velvet: You're a human being, you live once, and life is wonderful, so eat the damn red velvet cake at Whipped.  Layers of deep red sponge, naturally coloured with beetroot juice, and smooth cream cheese frosting with a hint of white chocolate makes this beauty a must eat at whipped.
Price: Rs.230 (Slice)
Link: http://www.whipped.in/red-velvet-cake.html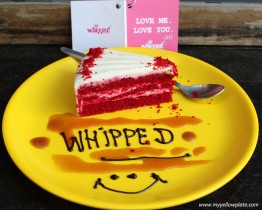 2. Coco Kahlua Mousse: The Signature, plain chocolate mousse with the right amount of Kahlua to whip your senses! The texture and flavour is just way too perfect. Eat it once and you will literally get whipped.
Price: Rs.180 (Slice)
Link: http://www.whipped.in/coco-kahlua-mousse-cake.html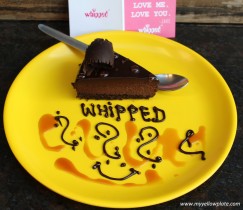 3. Fresh Fruit Gateau: Fruit is nature's candy, and at whipped, they make this candy even more sweeter. A perfect dessert with vanilla cake base, filled with layers of custard and tons of fresh fruits, topped with even more fruits. *can't stop drooling over it while writing* What are you looking at? Go get it!
Price: Rs.150 (Slice)
Link: http://www.whipped.in/fresh-fruit-gateau-cake.html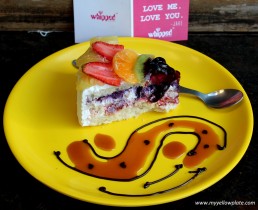 4. Tiramisu:  Love is in the air and it smells like COFFEE.  A popular coffee-flavored Italian dessert for the coffee lovers. Italian Mousse dipped in coffee with a whipped mixture mascarpone cheese and kahlua and cocoa!
Tiramisu means "cheer me up" or "wake me up", so now you know where to TIRAMISU.
Price: Rs.180 (Slice)
Link: http://www.whipped.in/tiramisu.html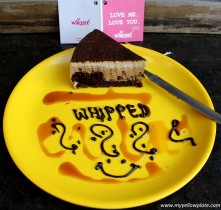 5. New York Cheesecake: Cheesecake lovers,  start spreading the news! Enjoy an authentic and scrumptious taste of New York with  original New York Vanilla Bean Cheesecake baked with Philadelphia cream cheese. The perfect example of simplicity at its best, a rich and creamy cheesecake flavored with organic vanilla bean perches proudly on top of a crunchy biscuit base. This one's a whipped delicacy!
Price: Rs.230 (Slice)
Link: http://www.whipped.in/new-york-cheesecake.html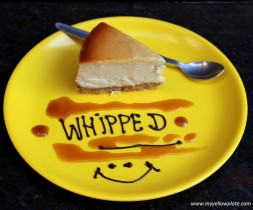 Whipped Details:
Where: GK-2 & Defence Colony
(You can also order online at www.whipped.in for delivery across Delhi-NCR)
Cost for two: Rs.500
Phone: 011-33105572
Timings: 10AM to 12 Midnight
Nearest Metro Station: Nehru Place (Gk-2) | Lajpat Nagar (Defence Colony)
Let us know in comments section what do you think of this place and what's your favorite dessert at Whipped?
SMILE MORE, EAT WELL!