Pleasing weather, a beautiful place, some delicious food and that special someone with you. Sounds perfect, doesn't it? The day of love, Valentine's Day, is just around the corner. And although, the complete valentine's week is a celebration of romance with roses, chocolates, teddy bears and all, but any romance is incomplete without that perfect date.
And a date during Valentine's has to be absolutely special, hasn't it? And for it to be special, it is important the setting is right. So, here is My Yellow Plate, with a list of 7 best places to celebrate Valentine's Day.
Rose Café, Saket
A place as pretty as the flower it is named upon, Rose Café is a serene and beautiful café in Saket. It has both indoor and outdoor seating arrangements, both equally beautiful. Above that, they have some amazing food, be it Pastas, Desserts or a cup of Coffee.
2. Diggin, Anand Lok
Definitely one of the most beautiful places in the city. The outdoor seating with the greenery and beautiful decorations are immensely charming, especially in the evenings with the fairy lights. Moreover, while you dig into your romance with your partner, you can enjoy their lip smacking Pies and Coffees.
3. Lakhori – Haveli Dharampura, Chandni Chowk
This one is for the vintage lovers. Eat like a king and queen at this majestic Haveli in Chandni Chowk. A masterpiece of architecture with some serene ambiance, this Haveli is perfect for lovebirds.
4. Olive Bar & Kitchen, Mehrauli
Another gorgeous place in Mehrauli is Olive Bar & Kitchen. It has been made so beautifully, that it is pretty hard to choose between indoor and outdoor seating. On the top of that, the food here is so good that you and partner will want to visit it again and again.
5. Jugmug Thela, Champa Gali
If you are looking for a perfect coffee/tea date, this is the place for you. Jugmug Thela offers romantic and serene vibes in abundance, with its wooden furniture, a great array of books, craft area and great food. This place is sure to light up your Valentine's Day.
6. Music & Mountains – Hillside Café, GK(1)
The picturesque scenes that a hill offers, is probably the most romantic setup to be in. This place aims to provide exactly that. With the quaint ambiance, wooden furniture and a fireplace, this place gives you an amazing feel of a hillside cottage. Pair it with the delicious food, this place is a hidden gem in the city where you and your partner can discover each other.
7. Lord of the Drinks Meadow, Hauz Khas
Away from the hustle and crowd of Hauz Khas Village, this is a gem of a place. The outdoor seating of this place is second to none in terms of prettiness. But it gets that X-Factor from the fact that it is made touching with the Deer Garden. So, while you enjoy the amazing food and the company of your partner, you might spot some deer or peacocks!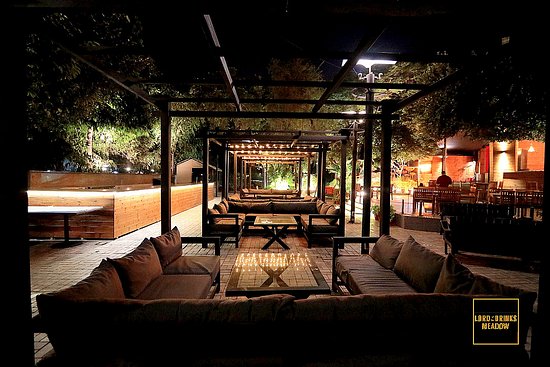 So, these are My Yellow Plate's Top 7 romantic places in Delhi. Happy Valentine's Day Everyone. Spread the Love!
Follow us on Instagram here.